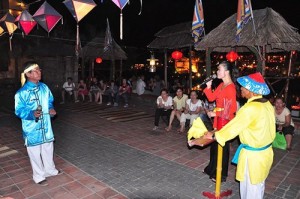 As part of the fifth Quang Nam Heritage Festival held in Hoi An City, a workshop on 'how to prove cultural heritages' values for development of tourism-experience from Hoi An' has been hosted to discuss the local authorities' concerns with developing tourism from cultural values.
The workshop aims for authorities and experts in the tourism sector to exchange as well as share experiences from locals to make tourism more effective.
Nguyen Ngoc Quang, deputy chairman of the People's Committee in the central province of Quang Nam, said that the province always put heritage values in tourism development as a top priority. In recent years, the province has released many regulations on managing and protecting historical, cultural sites and landscapes, renovating projects and on national relic recognition.
Along with missions of preserving and restoring tangible heritages, the province also calls on public awareness of protecting intangible values such as customs, old traditions, religions, folk art genres as well as old traditional festivals.
Since 1990, Vietnam has 17 sites recognized as world heritages by UNESCO, of which there are three heritages and 13 cultural heritages.
Moreover, there are more than 6,000 provincial relics, more than 3,000 relics and landscapes at national level as well as 34 national relics.
Truong Chi (thesaigontimes)
The treasure of intangible heritages also includes millions of artifacts and antiques as well as precious items displayed at 125 museums nationwide.
These heritages not only bring tremendous benefits for tourism but also attract a large volume of tourists to Vietnam.
However, many tourist agents insist that the country's tourism sector exploits heritages improperly as they chase down the profit and ignore the protection and preservation of heritages appropriately.
In fact, UNESCO has warned the nation about the negative issues of Phong Nha-Ke Bang National Park, the unreasonable fish farming on Halong Bay and uncertainties on urban management in Hue ancient city.
Recognized as a world heritage in 1999, the volume of tourists going to Hoi An ancient town has increased year by year and the city has also lured restoration investment from nations and international organizations.
Le Thi Kim Oanh, director of Vietravel from the Central Vietnam region, said that Hoi An is losing its charm as preservation projects have not been carried out properly and the number of local residents' business of cafés, fashion, garment and food shops has taken away from the charm of the town's old houses.
Some festivals are held just for short-term promotion or just to impress tourists as well as to seek recognition.
Nguyen Manh Cuong, deputy general director of the Vietnam National Administration of Tourism, also admitted that the tourism exploitation in some sites has not been good or effective as expected. Many economic and social benefits are causing negative effects on heritages, he added.
Therefore, representatives at the workshop concluded that they need to team together to figure out solutions to provide heritage values in tourism development.
Collaboration between authorities, tourist agents, heritage developers, tourism exploiters as well as the community is needed. Cao Tri Dung, director of Vitours, said that the connection will bring strength to tourism exploitation, market segmentation as well are serving travelers' demands.